I think it might be fair to call this my official "kissing summer good-bye" outfit. I am more than ready to embrace fall with open arms. I tell myself that I am only complain about one season, and I typically pick winter. But this summer has been a SCORCHER. Most days Donnie and I were stuck in the house since taking him out would likely mean us both sweating our booties off.
My days as of late are largely spent trying to stay organized and attempting to keep Donnie from wiping out too bad (he's crawling like a madman and pulling himself up anyway he can... walking is just around the corner I think!), but I've also rededicated myself to Glitter Brigade. I
so badly
want to get my Etsy shop open again and I've been slowly drawing, writing, collecting, and planning... I'm excited, but I'm also a little terrified. Chasing a dream leaves a big chance for failure, which is something I'd rather not think about. I'm just taking it one step at a time for now.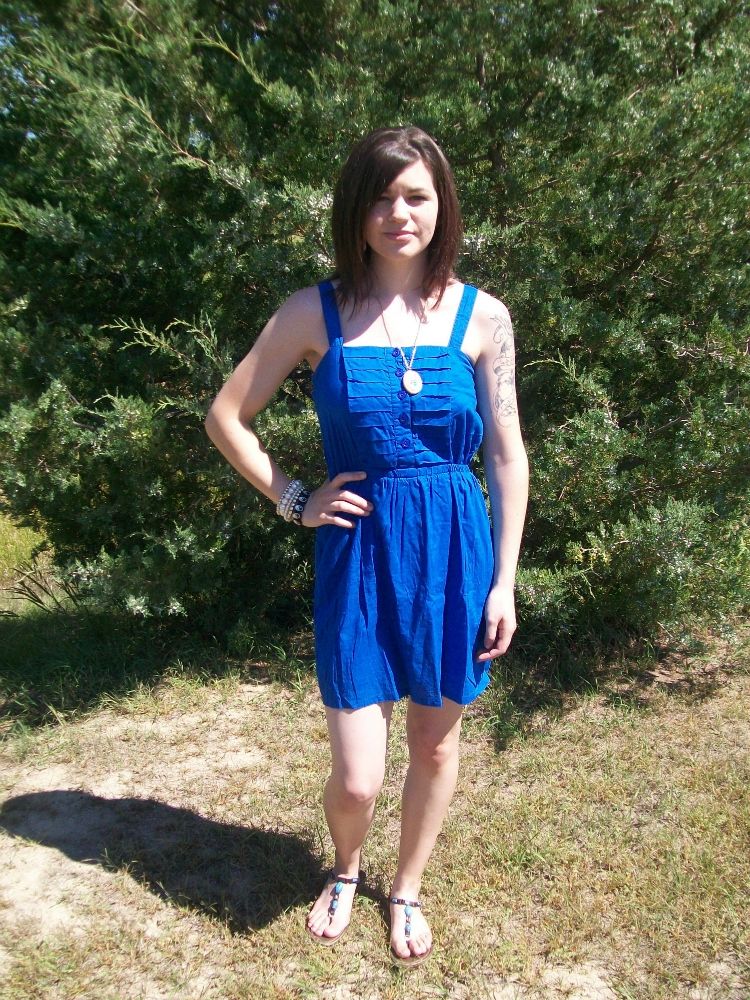 I love that locket. My friend who gave it to me was kind enough to include a lovely little meme inside, which I posted
here
. Don't you love the buttons on this dress? I do. It's a big part of what sold me on buying it. I had the sides sewn up so it wouldn't bulge so much, but my sister wore it and tore them back open. Remind me to add fixing it to my never ending to-do list.
Blue Dress & Yin-Yang bracelet (similar here)- swap meet in Tijuana
Pearl bracelets - Wal*Mart
Locket - Gift
Sandals - Maurices